One Slice, Two Slice, Red Slice, Blue Slice
How much cake do you REALLY need?
How Much Cake Do You REALLY Need?
What's worse than too much cake, that ends up getting wasted?
Not ENOUGH Cake!
They are actually equally bad in my book.
How much cake is enough? How much cake is TOO much?
These two questions are usually the first question that I am asked from brides.
Cake Count Considerations
How much cake is enough? How much cake is TOO much?
The idea of not having enough cake for cake loving guests is scary.
But equally scary is the thought of having a lot of cake left over that is either wasted or that ends up at the newly weds home while they honeymoon.
My general recommendation for number of cake servings is to order enough cake for each of your guests.
But if you wish to reduce the number of servings, a comfortable reduced amount may lie in the range of 70-80% percent of your guest count.
To truly determine the correct amount of cake for your reception there are a few things to consider in addition to your actual guest count.
Your Menu
Your Menu – how much will you feed your guests throughout the night? Are you having a cocktail hour in addition to dinner? Will your guess pass on cake because they are stuffed?
Top Tier
Are you saving your top tier for your 1st anniversary? – Plan on adding 6 to 10 servings to your cake serving count.
The Cake Wait
The Time of wedding and reception itinerary - when will the cake be cut and served? Is it early in the evening? Or will guests have to wait until towards the end of the reception? How many of your guest will still be present at cake time?










Open Bar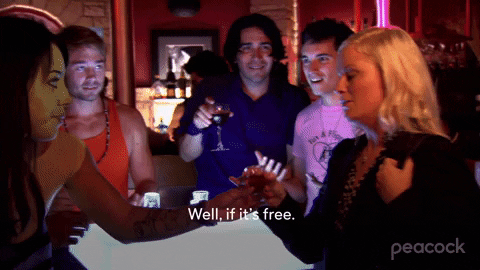 Will there be an open bar? – with this question think 'will they remember there is cake? Lol
If you are gifting your guests an open bar, and you will be setting your cake out later in the night, plan to have your DJ make a cake announcement as a reminder.
Flavors
How many flavors did you order?
Ordering more than one flavor of cake is fun, until you learn that your favorite aunt Clara doesn't eat anything but Vanilla and all of the vanilla is gone; or you later find out that uncle Henry and his ten brothers somehow had 3 flavors each and now your servings are short.
Sorry for the math word problem here, but this is something to consider if ordering a percentage of your guest count and may require ordering over your guest count if it is your dream to offer multiple flavors.
Next Week
Next week we will get into what you should know regarding WHEN to order your wedding cake!
I am here to educate to on all things wedding cake to make your ordering experience stress free and help you get the wedding cake of your dreams.
If you don't feel like waiting until next week's info snippet, you can learn all that you need to know in my Ultimate Wedding Cake Guide.










Now Go and Make Great Wedding Cake Decisions
Take my advice so that you don't look back and regret your wedding cake. I would go a step further to say: to ensure an overall amazing wedding cake experience you should hire Gourmet Girl Custom Cakes. Shameless plug...
I serve local clients in Northeast Ohio, but I offer travel options as well.
Regardless of who you select to make your wedding cake, do it with an educated understanding to ensure the sweetest memories.
Don't forget to read Ultimate Wedding Cake Guide for more valuable information.
Oh, and if you found this information helpful leave a comment below this post!